Workforce Training in Adult Education
Fall 2019
RSU #54 Adult and Community Education proudly supports workforce training that helps individuals enter the workforce and/or acquire industry credentials.
The 21st Century Workforce Initiative—run in collaboration with Lawrence Adult Education—began its tenth session this fall.  Seven young adults, ages 16-21, will complete three weeks of classroom instruction.  They will learn about necessary workplace skills, engage in career exploration, develop resumes, and participate in mock interviews.
A grant from DHHS largely funds the initiative, although we receive additional logistical/financial support from Somerset Workforce Development and Western Maine Community Action.  Because of this support, we are able to pay students $11 an hour both to attend class and to participate in a seven-week work experience.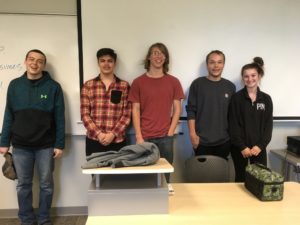 Thanks to the generosity of employers like Skowhegan Equipment and Tool, the History House, Mark's Complete Automotive Service, and many others, these young adults get a taste of the "real world" and have an experience that will hopefully lead to future full- or part-time employment.
Skowhegan Adult Ed also coordinates CNA training with area nursing homes.  One session with Genesis Health Care, which runs the Cedar Ridge Center in Skowhegan, wrapped up in early October.  Meanwhile, a session with Mount Saint Joseph has recently begun in Waterville.
Qualifying CNA students can receive financial assistance through funds provided by the federal Workforce Investment and Opportunity Act.  As with the 21st Century program, Skowhegan Adult Ed partners with Western Maine Community Action—the state agency charged with disseminating these funds.
At Mount Saint Joseph, four students qualified for this assistance—approximately an $1800 value.  In return for the free training, these students will go to work for Mount Saint Joseph for a minimum of 12 months. 
Hospitals and assisted living facilities across the state are in desperate need of CNAs, so this training provides an important community service. We also hope that it will launch the careers of these adult learners.